I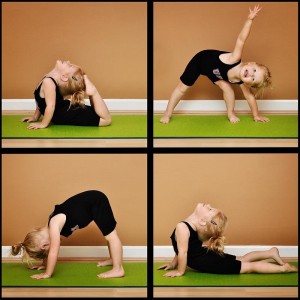 love this article on 6 Ways for Children To Learn About Their Body.. here is an excerpt about the yoga for kids!
Great for all ages, art offers many opportunities to explore the body. One idea are to make self portraits. This is a wonderful way to explore self concept and body awareness. Tracing the child's outline on a very large piece of paper and then adding all the details with markers and crayons is another very fun and exploratory activity. Another way to incorporate art and body awareness is using different body parts to paint, like using toes instead of hands! Ok its messy but loads of fun and a great learning experience.
There are so many books that talk about the body and help children learn about what they can do.  This past week we read Monkey Puzzle by Julia Donaldson. It is a wonderful story to talk about how we come in different shapes and sizes, how we may or may not look like members of our family.   Another really fun  book is Head to Toe by Eric Carle, where animals do different things like bending necks, kneeling down,  standing on one leg and I especially like the message throughout the books that says  "I CAN DO IT!"

Yoga games and poses are a great way for children to learn about their bodies and what they can do. From moving into silly poses to learning how to take long deep breaths, Yoga can calm, center and help children of all ages to focus, learn about their bodies as well become confident in their physical abilities.
One of our favorite calming yoga games is  Big Rock, Little Rock:
To play, invite your child to kneel down next to you, and place your bottom over your feet.  This is the basic rock pose. Next bring your head down in front of your knees, trying to rest your forehead on the ground.  As rocks, invite your child to think of herself as a quiet rock and take a few breaths. Next, move your hands under your forehead and be very still, you can quietly say "we are quiet rocks, we feel the earth". Finally move your hands towards your feet so your arms rest along your sides and your hands by your feet – invite your child to imagine she is a rock or a crystal – be still, be silent, breathe. If your child enjoys the quiet game, invite her to think about being a rock that is floating in a river, being light then being heavy like a big boulder.
This exercise is wonderful for grounding, centering and learning to be still. One variation that is lovely is to invite a toddler to become a rock in mommy's lap!
For more yoga games you can see this post:  Four Yoga Games for Toddlers and Preschoolersthat I wrote for Elephant Journal.
Learning about the body happens quite naturally for children in day to day activities, and observation,  but it can be fun to use activities, books and yoga exercises, art and more to take a moment and highlight the amazing things we can do!
Photo credit: J. Star / Foter / CC BY-NC-SA
Image courtesy of Clare Bloomfield / FreeDigitalPhotos.net
Image courtesy of papaija2008 / FreeDigitalPhotos.net
Visit Authentic Parenting to find out how you can participate in the next Authentic Parenting Blog Carnival!
Casey's Comments!  I love reading parenting articles that see the benefit of kids learning about their bodies. It's often not talked about enough. I love the Big Rock, little rock game here, and it's easy to make little things into games and share movements, and calming qualities all at the same time. Keep practicing yoga with your kids.. Interesting in learning more and teaching yoga to your own kids or others.. Click here!