Alanis Morissette just tweeted a picture of her brand new baby and he's adorable. Check it out below.
Yes, it's a giant dose of cuteness from a lady who asked if we'd do dirty things in a theater.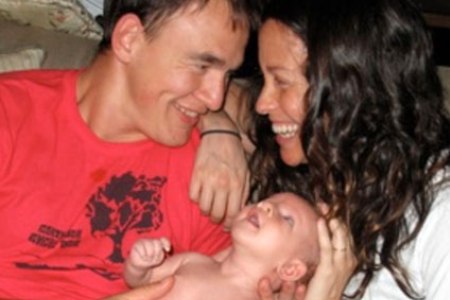 Singer Alanis Morissette just provided us with the "awww" moment of the day.
She just tweeted a picture of herself, her husband Mario "Souleye" Treadway and their brand new baby boy, Ever Imre.
The adorable bundle of joy arrived on Christmas Day and couldn't be sweeter if you covered him with marshmallows and glitter.
Accompanying the photo was one word, "amazing."
A few days after his birth, Morissette tweeted "moved beyond words and so grateful" and "so in love with my new nuclear family."
Finally, a happy story out of Hollywood. Congrats Alanis!
Casey's Comments
I loved Alanis's when her album Jagged Little Pill came out in the the mid 90's. I was right out of college and it really hit the spot. I remember listening to it with a girlfriend, and we had just gotten out of bad relationships and were on our way to get our tattoo's (back before they became popular).  I have loved her music and what she stands for ever since.  Here brother is also a yogi, who I have met and heard sing Kirtan (chanting Sankrit in Call and Response style) It's been fun to see her grow (like her song Thank You) and see the spiritual growth. Welcome to motherhood Alanis! 😉
httpv://www.youtube.com/watch?v=OOgpT5rEKIU