ATLANTA (CBS ATLANTA) –
Fit kids — it's all about getting kids up, moving and healthy.
And since we launched our campaign last month, we're quickly discovering there are almost limitless possibilities on how to get started. We found one option that not only builds strength but also confidence and emotional health.
Kim Steen is no ordinary yoga teacher. Her midtown classroom is filled with kids ages 3 to 9 years old.
"I think adults are a little more stubborn. You know, kids are more free," Steen says.
Attempting to calm a rowdy group of kids enough to teach them a yoga pose may seem close to impossible but Steen says "they're very proud of each and every pose."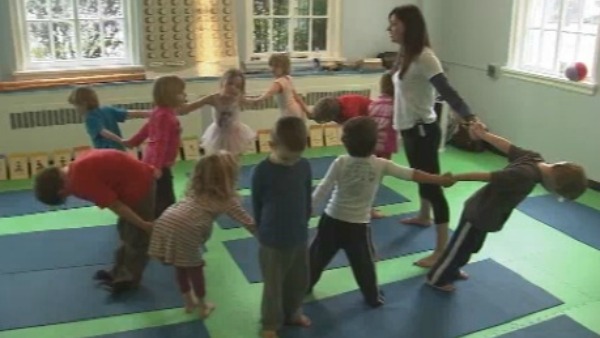 Four-year-old Alexander says his favorite pose is "Downward Dog," as he demonstrates how to do it. Six-year-old Harry has mastered his favorite poses
"I learned to do Tree Pose and Hippopotamus Pose," he said.
Steen says the more they practice, they achieve "better coordination, balance, lots of motor skills and you can see the improvement each week so they build on it and hold the poses longer and you can just see it, you can see the development."
Yoga builds strength, flexibility and confidence that could potentially help children with other sports and activities.
"It's about movement, even if it's little movements like yoga. I find that once you get them up away from the video games and the TV, they'll want to do more," Steen says.
Plus, the basics they learn here can help them in the real world — things like self-calming and concentration before a stressful exam.
"They learn how to deal with their emotions and if they get angry or upset they can go into a pose or do some breathing techniques that we learn," Steen says.
If this is the first time you've heard of youth yoga, it might not be your last. You can find more yoga studios offering classes for kids across the metro area.
Just for CBS Atlanta viewers, Steen is offering the first yoga class at her studio Intown Tumbling for free. Check out her class schedule, and then send an email saying you saw the story on CBS Atlanta or CBSAtlanta.com.
Casey's Comments
I love this video, except for the McD's ad to start.  It's so great to see kids practicing yoga and you really can see their progress. The kids do become more confident and love to move and make their bodies look like trees and animals.  I love how they share so many benefits that kids get from practicing yoga! 😉